SLAUGHTERHOUSE RULES!
---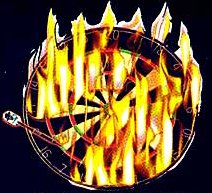 SLAUGHTERHOUSE: Weekly match reports
Week 4 and 5

Week 4 we lost the match 17-10 but alot of allstars were hit!!!! john arrabito hit a ton and a t40 in the first 501 game,brian hit a t60 in his game and they lost,i hit a ton and rich asaro hit 2 tons in our 501 wins.maria hit 2 r5's in her cricket loss,and joe fanale hit 2 4c's and a r5 in his cricket singles win.joe and brian won the doubles cricket,the other 2 games were losses,but i hit an r5 in my game.i also hit a t21 in my doubles 501 game with joe fanale and he hit an 83 on and we won the game.thats it for week 4.
Week 5 we lost again 23-4 against snipers,but again some allstars were hit. maria hit a t5 in her 501 singles game,mike hit a ton and won his game, john arabito hit a t27 in his loss,mike also won his cricket singles and hit an r7 and an r5,i hit a 3c but lost,and joe fanale hit 2 r5's but lost,in doubles 501 mike hit an 85 on and i hit a ton and we lost both of those games,and in 601 maria and i hit a ton each but lost again!!!!!


ADO Qualifiers - April 1, 2001

Congratulations to Maria Timmons for winning the women's bracket and advancing on to the ADO East-West All-Stars Regionals.
Congratulations also to John Arrabito for hitting the only Ton-80 on the day.


Week 3 - B66 @ Slaughterhouse

Results: Slaughterhouse 6 - B66 21
Roman hit a ton and took out 76 for the win in 2 darts(trip 20,double 8),Maria won her singles 501 game by forfeit so she gets 2 tons for her non-effort. Phil, John and Rich all lost our cricket singles but some allstars were hit. Phil hit a r7 and a r5, John hit a r5,and Rich hit a 3c. In the doubles cricket,Maria and Joe Fanale won the game and Joe hit a r5,roman hit a r7 in his loss, rich asaro hit a ton in his double 501 game,and brian madden finally breaks the ice for allstars with a ton3 in the 601game but again we couldnt pull out the win!!!


Week 2 - Snipers @ Slaughterhouse

Results: Snipers 23 - Slaughterhouse 4
Highlights: The only wins were by Rich Asaro and Roman Kucharzewski,rich hit a r5 and a 3c,roman hit a r5 in doubles cricket. Phil and John Arrabito won their 501 doubles games, Phil hit a 92 on and John took out a 32 for the win. Roman hit 2 tons in his singles 501 game but lost,and Maria hit a ton and also lost her game.


Week 1 - Slaughterhouse @ Varuna TBA

Results: Slaughterhouse 8 - TBA 19
Highlights: The season started off in great fashion as Maria beat Gerard in the the first game of the season and of the night (single 501). No allstars but she took out a 34 by hitting a double 2,then a single 2,then the double14 on the last dart !!!!
Mike vallone hit 2 r5's, one in his singles cricket game and 1 in his doules game, Phil hit a r5 in his singles game and 3c in his doubles cricket game for the win against gerard byrnes and mike zielinski. Maria hit a r5 in her doubles cricket game,joe fanale hit a ton in the 601 game. Roman Kucharzewsky won his 501 game by taking out a (xx,double one),and John Arrabito won his game by taking out a (4,double 2)

---
SLAUGHTERHOUSE Page
Gotham City Dart League
Copyright © 2001 - SLAUGHTERHOUSE
All Rights Reserved
Last Update: April 14, 2001
Webmaster: SLAUGHTERHOUSE